When the Fernie RV Resort opened on April 1st the Resort's private family-style washrooms immediately set a new standard for campground washroom facilities. The Resorts's tagline "Exceeding Expectations Naturally" took on meaningful relevance beyond the resorts stunning location; nestled in the mountains between the Elk River, the Fernie Golf and Country Club and Maiden Lake–Fernie's favourite beach.
The new washroom facility includes two buildings connected by a covered atrium. It boasts eight private family-style washrooms that each include a high-end shower, sink, and toilet. Two of the washrooms offer baby changing tables and one includes full handicap access and facilities. A commercial grade laundry facility occupies the southern building with six washers and ten gas dryers.
"Our goal to create a family resort with superior amenities and services that serve today's camper is real" says Reto Barrington, Managing Director. "We are open and pleased to invite you to come and enjoy our facilities".
The design for the washroom and laundry buildings is inspired by the surrounding Canadian Rockies and Fernie's iconic Three Sisters Mountain, which form the visual backdrop to these unique structures. The buildings themselves invoke the impression of two travel trailers facing one another. Over time the steel exterior will rust from exposure to moisture, heat and air–creating an authentic organic appearance juxtiposed over the relatively modern architecture.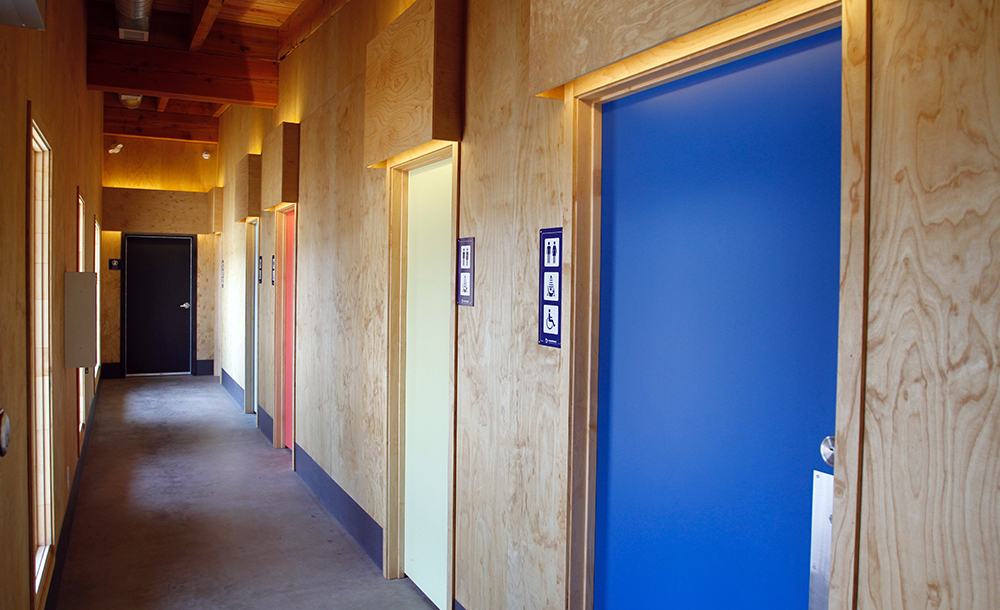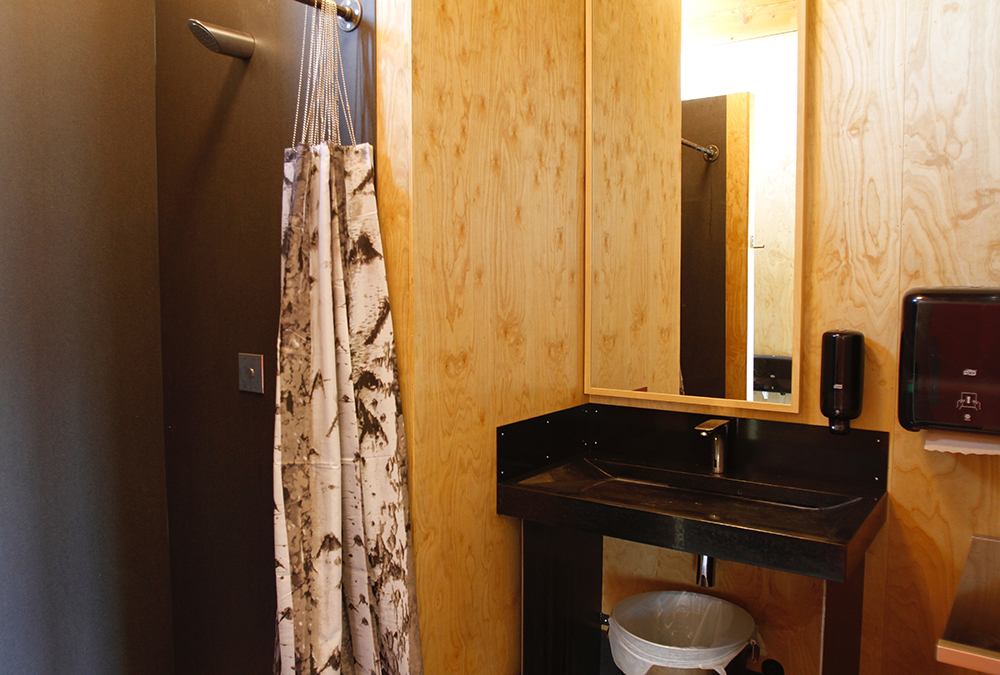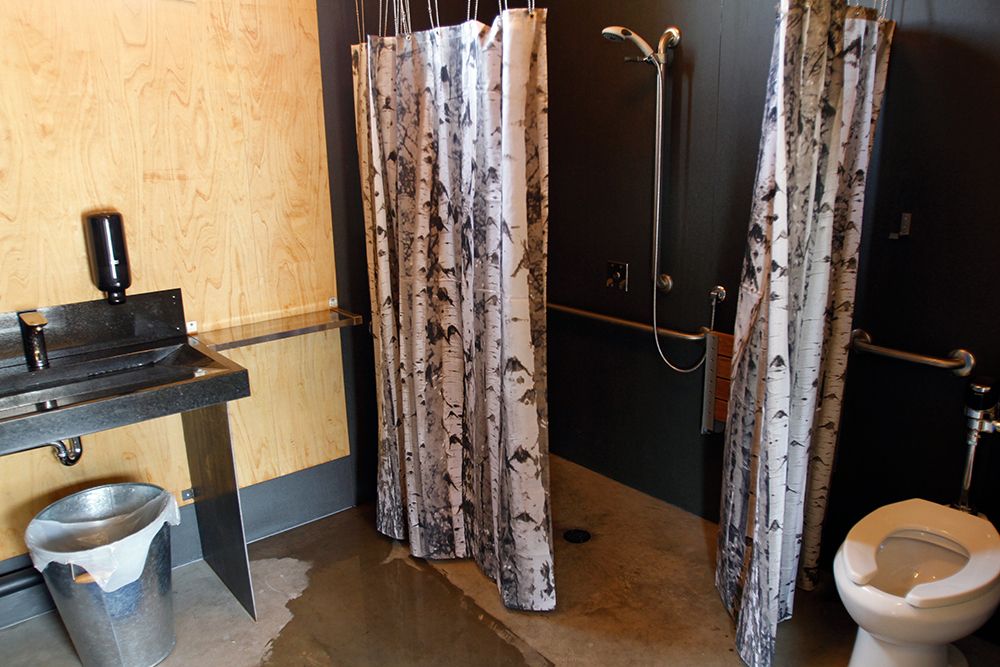 Catherine Chernoff, Chernoff Architect Inc.'s Principal Architect, designed the facility. Chernoff Architect Inc. is a dynamic team of Architects based in Calgary Alberta. Their underlying theme resonates in this project: a commitment to implementing strong designs which are aesthetically unique and interesting – but architecturally functional and inspirational to the people using the space.
The FRVR is a brand new luxury RV Resort with 115 sites and opened on April 1st, 2016 with year around service. Work at the Resort is continuing throughout the spring with additional new facilities being completed. A children's playground as well as a feature garden all scheduled for completion spring 2017. This project could be one of their most inspiring and will be a topic of conversation for many campers.
The Resort is surrounded by the Elk River, Maiden Lake, and the Fernie Golf and Country Club. The beautiful location provides convenient access to water recreation and world-class mountain activities. While staying at the resort, campers can enjoy easy access to Fernie's historic downtown restaurant and shopping district via a pedestrian friendly riverside trail. Shopping and dining needs are only a short walk away.
Campers are welcome to stay for a single night, a month or seasonally. Fernie's winter season offers world class powder skiing and snowboarding, as well as many other winter activities and adventures.
This family style Resort offers an amazing package of amenities never experienced before including convenience and services that will "exceed your expectations".
Amenities and Services

– 71 deluxe back-in sites with parking spot. Site dimensions are 43 ft W x 70 ft L. Pad dimensions are 50 ft x 10 ft for the RV pad and 25 ft x 10 ft for the parking spot.

– 26 premium pull-through sites: Site dimensions are 43 ft W x 60 ft L. Pad dimensions are 70 ft x 13 ft.

– Full-service year-round hookups at each site: water, sewer, and electric (all RV sites have 30 and 50 amp service)

– Sites accommodate the largest rigs (up to 4 slide outs)

– 18 tent sites: Site dimensions are 43 ft W x 50 ft L. Parking pad dimensions are 10 ft x 25 ft.

– 15 amp electricity at all tent sites

– Water is within 30 metres of tent sites

– One group tent site can accommodate up to 30 people

– All sites are level and easily accessible

– Wireless Internet: Primary service is 120 Mbps† download, 6 Mbps† upload. Download speeds are designed to provide a minimum of 4 Mbps† at each site

– Commercial grade laundry facility

– Private family-style washrooms include a shower, sink, and toilet

– Picnic table and fire pit at each resort site

– Pet friendly

– Public sani dump and water fill up station

– Quiet location: end of road, no thoroughfare
About Fernie, British Columbia

Fernie is a true mountain community, revelling in Mother Nature's delights. A thriving cultural scene, the enthusiasm of a vibrant youthful population, and a scenic, tranquil location in the heart of the Canadian Rocky Mountains make it unique. Visitors to Fernie often describe their Fernie experience as authentic. Perhaps it's the century-old downtown and rich history. Perhaps it's the pristine natural environment. Or perhaps it's the friendly, down-to-earth community. Come and visit us and you'll fall in love with Fernie too.