GUIDELINES AND POLICIES FOR RESORT STAYS ONE MONTH PLUS
DESIGNATED FLOOD ZONE
The Fernie RV Resort is located in a designated flood zone and as such may be subject to evacuation on eight hours notice.
Site Set-Up
Units must not overhang the gravel pad over the grass. One must be able to walk around the entirety of your RV on the gravel. Jacks must not be put down on a site until FRVR Staff has approved placement of setup location. All site enhancements including sports equipment such as mats, sunshades, bike racks, and furniture must be located on the gravel pad.
Water pressure at Fernie RV Resort is 80+psi. Pressure reduction regulators are highly recommended and are the responsibility of the guest to supply.
Guests will be subject to a monthly electrical meter charge based on their power consumption as determined by the 'on-each-site' electrical meter. Site # and Power Meter must not be covered and always visible to allow for monthly meter reads.
Any improvements to the site must be pre-approved by management.
Accommodation
No guest is permitted to occupy any one site for longer than a six-month period, no exceptions.
Fernie RV Resort reserves the right to move any guest to another site within the same accommodation type at any time. We do not guarantee any specific site or accommodation for any stay. Long-term camping is restricted to owner occupied rentals only, there is no renting, loaning, or subletting of the site permitted.
Occupancy at Fernie RV Resort is not a residential tenancy governed by the Residential Tenancy
Act in British Columbia.
Site Appearance
Sites must always be kept tidy in appearance. Storage of any materials and equipment at all sites must be located so as not to be visible. Please see the photos on page 3 for examples of acceptable sites versus unacceptable sites.
Guests may be subject to a site cleanup fee of $250.00 if there is excessive cleaning to be done upon checkout.
Structures and Additions
You may have a small set of stairs with a small landing to provide an entry platform for your RV. The platform must be no larger than 20 square feet, may not be fixed to the RV, and must only be placed to allow for the user to land on the gravel pad.
The entry platform can be used year-round; however, any covered entryways must be taken down by April 15, 2022, and will not be permitted at any time following this date.
No deck/porch/fixed canopy/pergola/etc. shall be freestanding or affixed to any tents or RVs. Fridge insulation and other structures are not permitted.
If you are unsure whether your structure/addition is within FRVR guidelines, please consult the Office before constructing. Structures which are not within the approved guidelines will be asked to be removed.
Skirting
All skirting must be removed from the RV no later than April 15th of each year and shall not be installed until October 15th of each year. Skirting must look tidy, neat, and professional in appearance.
Acceptable Skirting:
Custom manufactured by reputable RV Skirting company such as Kimbers Creations, Airdrie Canvas, RV Skirtn, AirSkirts, RV Skirting Olds, etc.
Wood – painted or stained, no exposed raw wood
Rigid Styrofoam (must be pre-approved) – unbranded white or grey only
Canvas – black, dark brown, grey, white
Black or White Black tarp, Black or White heavy plastic
Matching plain white, black, or grey tape
Unacceptable Skirting:
Fiberglass insulation -batten or loose
Spray foam insulation
Straw or hay bales
Styrofoam Board sheets
Pink, Blue, Green rigid Foam board a/o Silverboard
Exposed Silver bubble insulation
Red or blue/colourful branded tape
Bright coloured Plastic or Tarps
Uncovered exposed silver bubble insulation or Styrofoam board sheets are not acceptable.
Please do not dispose of skirting material in FRVR dumpsters as these dumpsters are intended for household garbage only. The Fernie Transfer Station is located at 6000 Highway 3 (across from Fernie Home Hardware – just a few minutes east of FRVR) and will accept all these materials, including Styrofoam recycling.
Examples of Acceptable & Approved Sites – skirting, appearance, and site set-up.: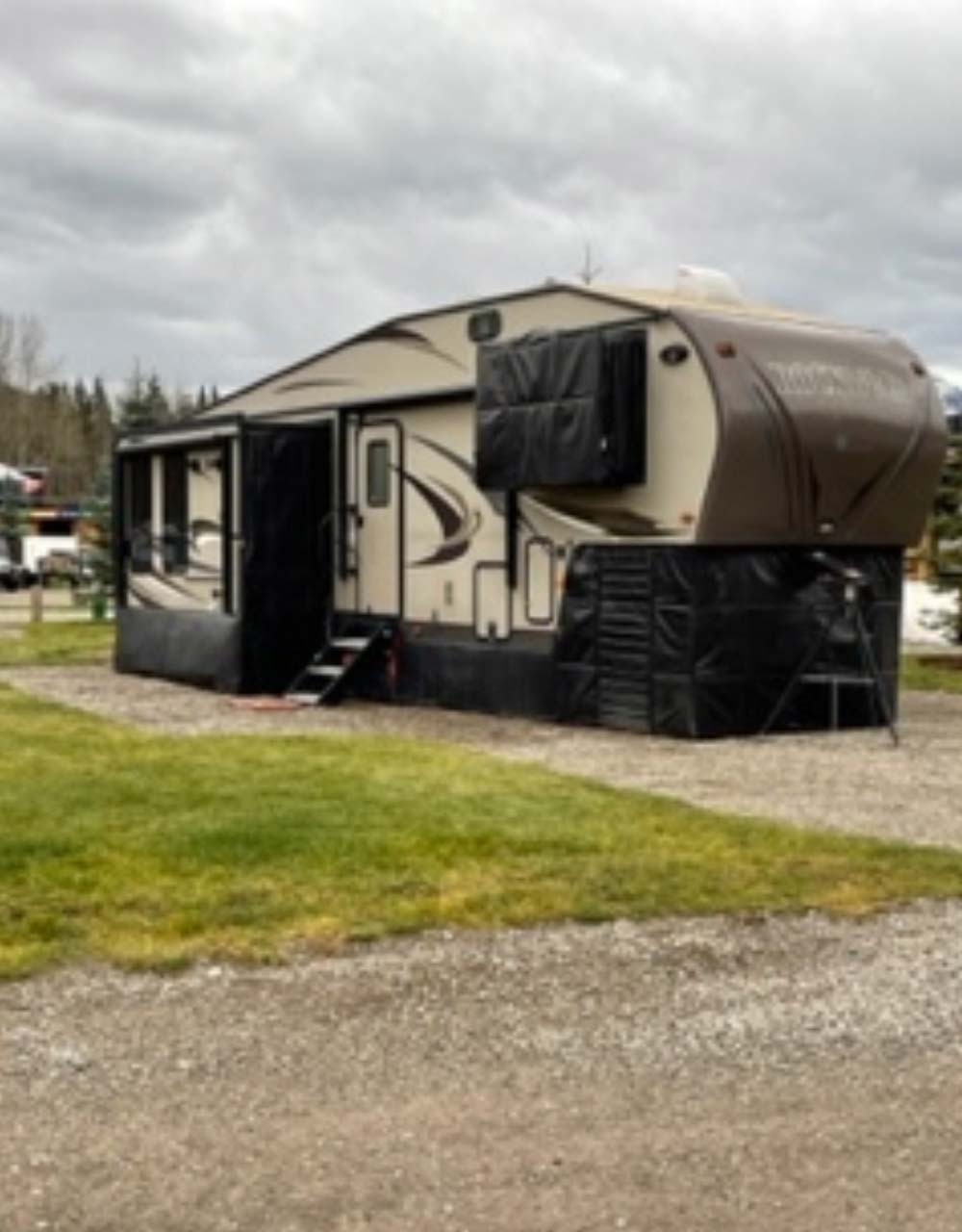 Custom manufactured skirting, tidy site.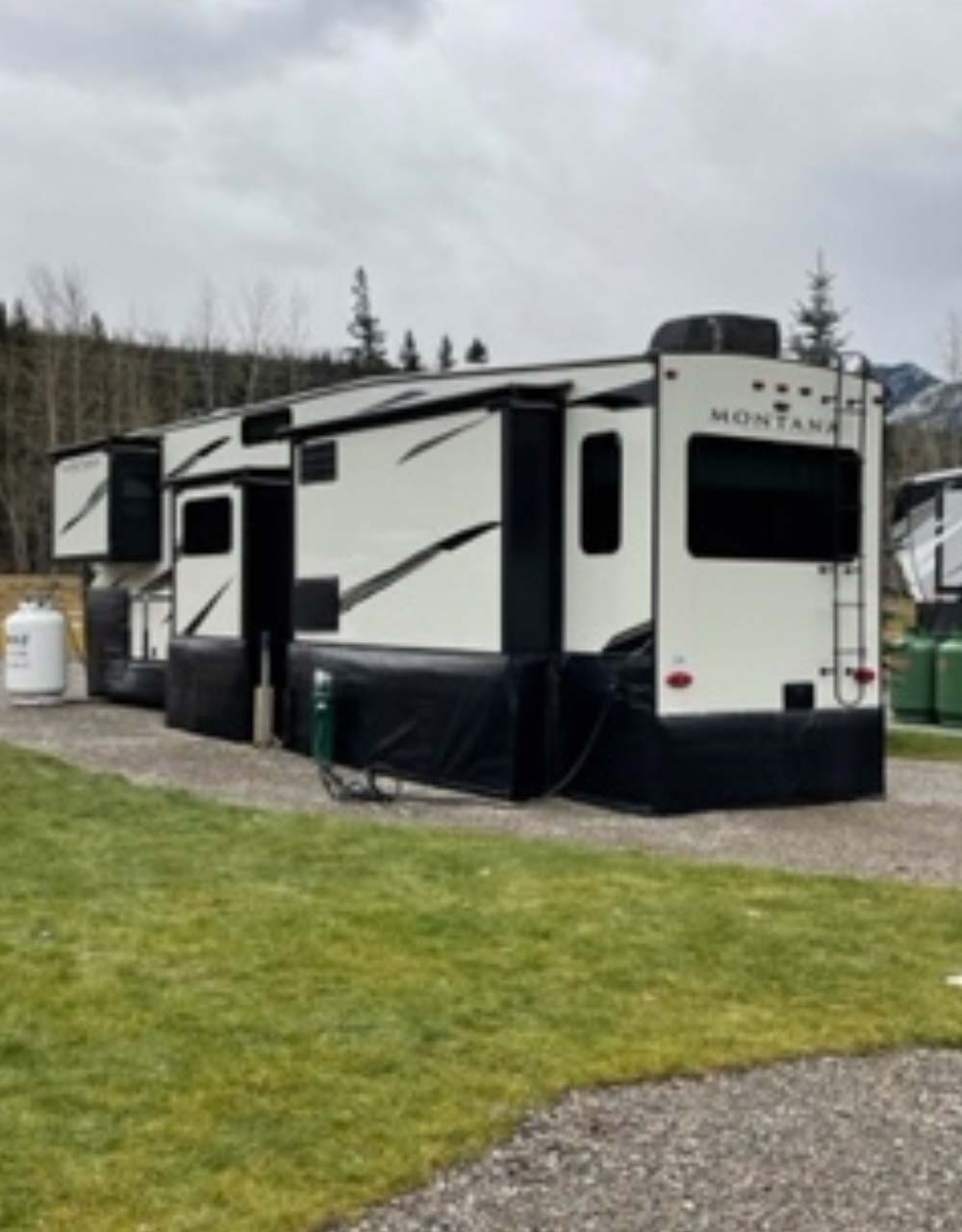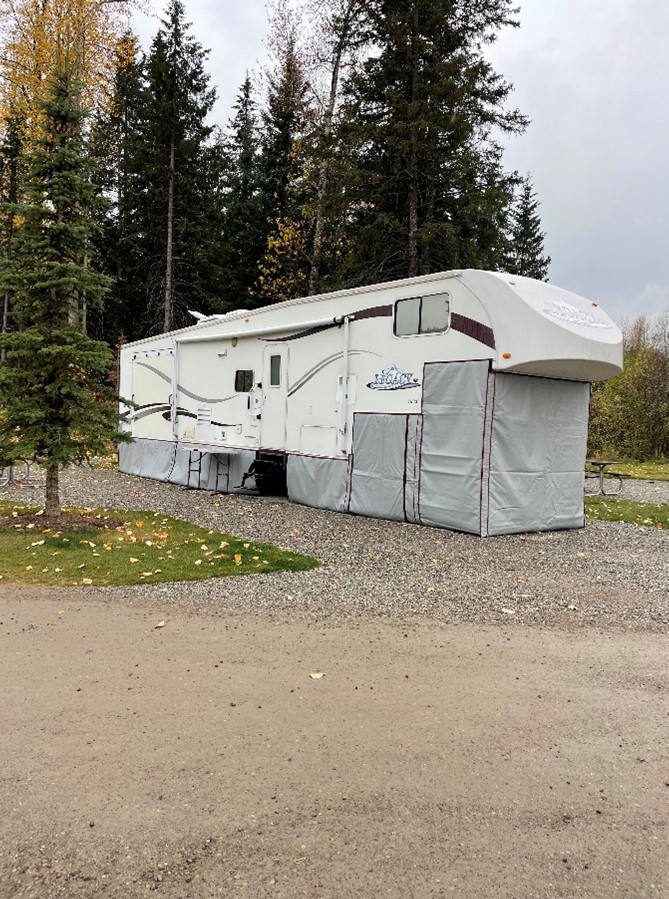 Painted Wood skirting, nice & neat.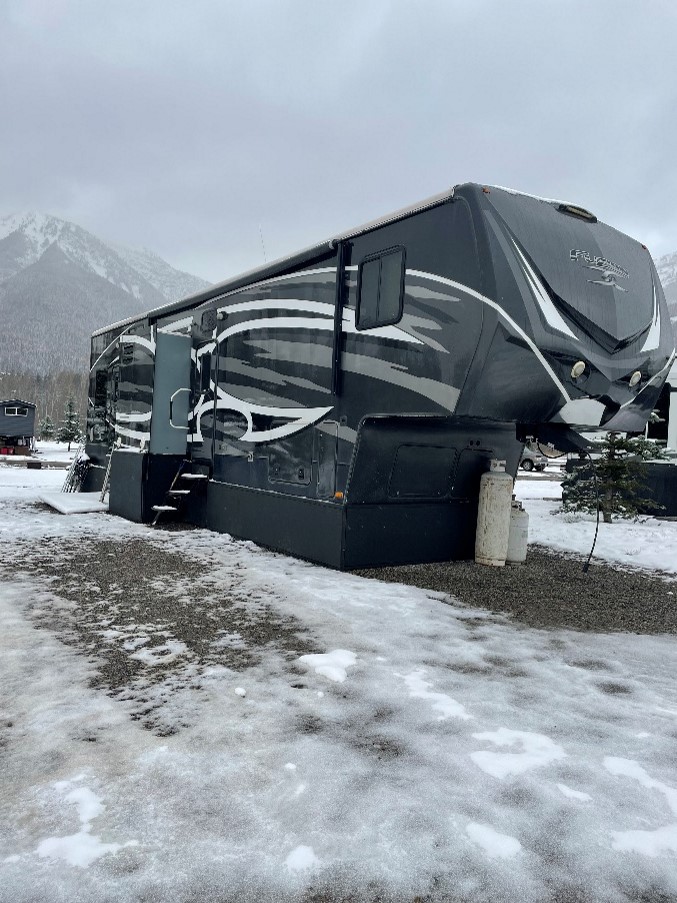 Examples of Unacceptable Skirting and Site appearance: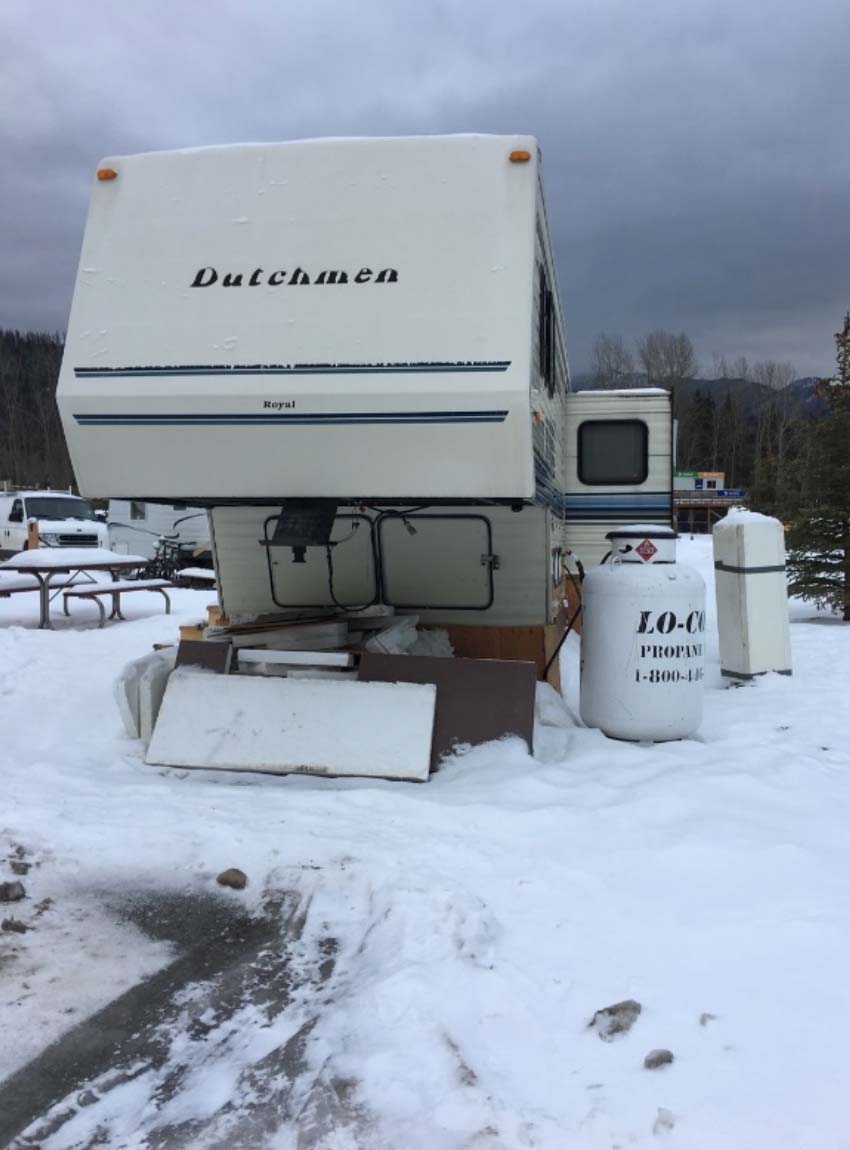 Unacceptable site appearance. Materials should be stored inside an approved storage unit.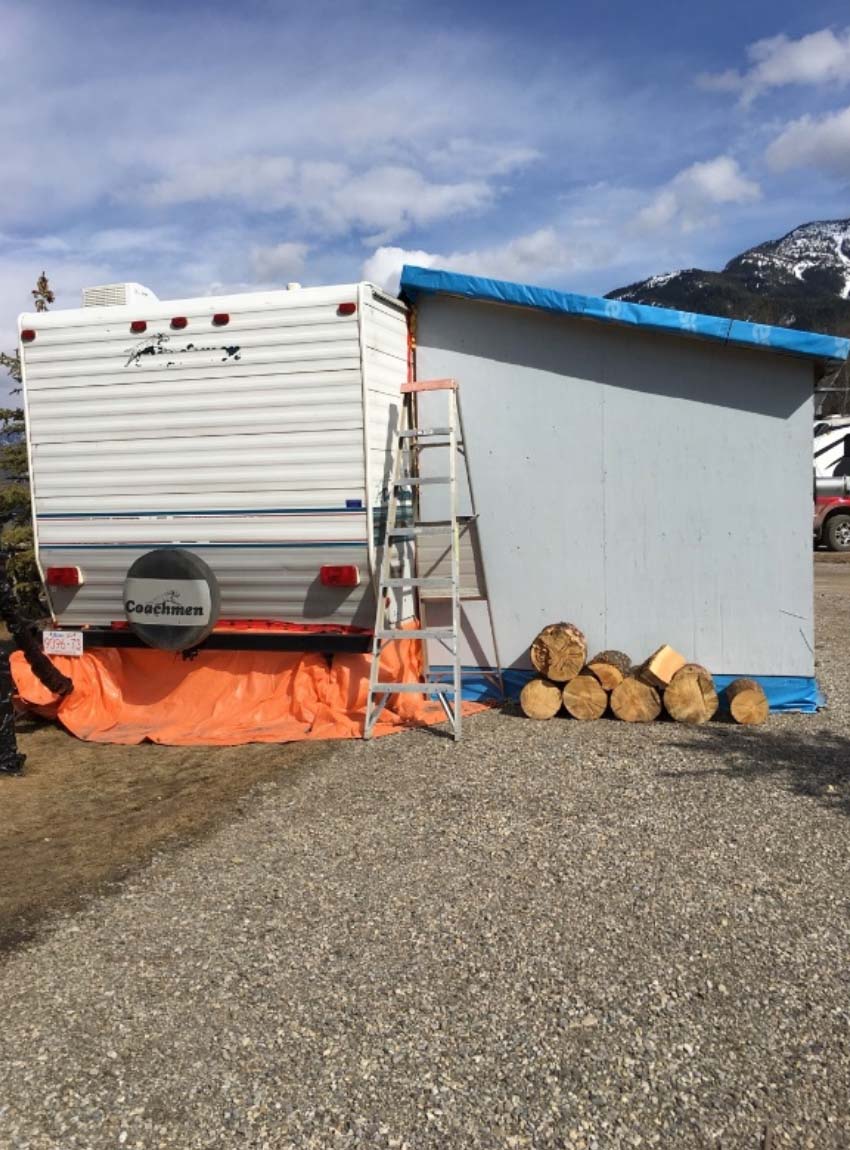 Unacceptable skirting materials and additional structure.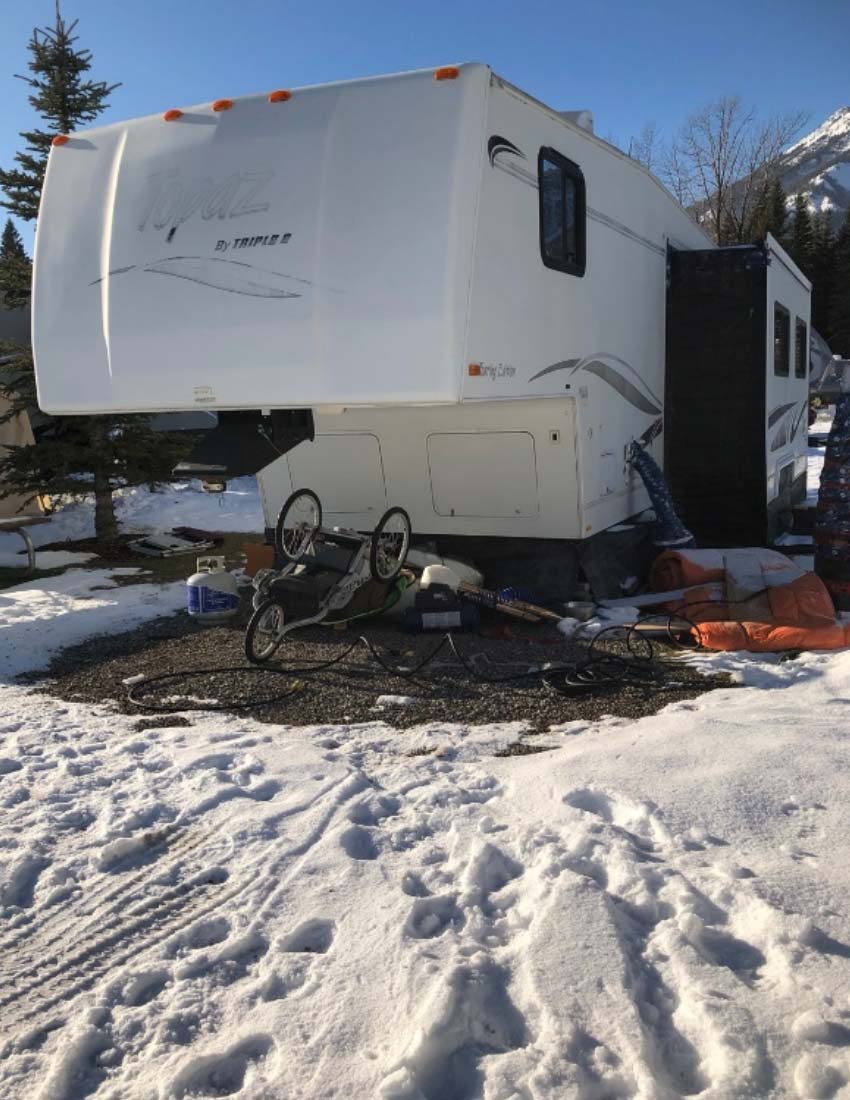 Unacceptable exposed skirting materials.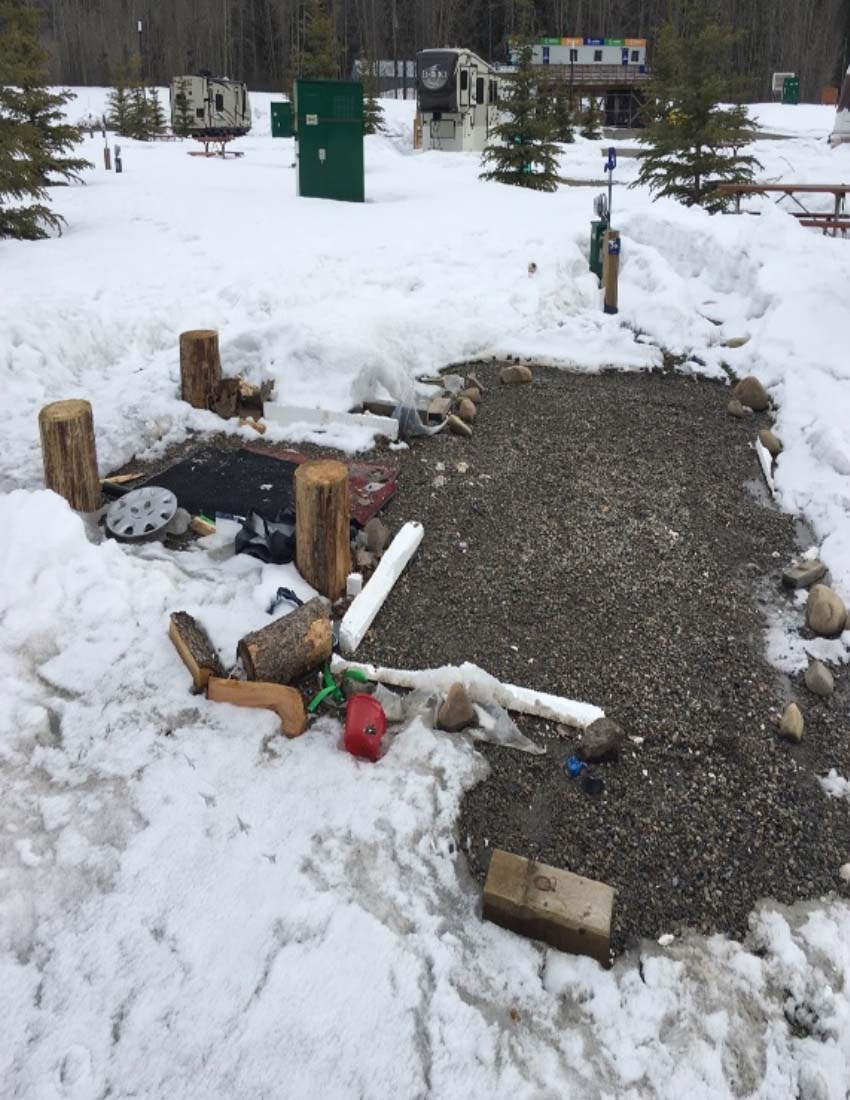 Unacceptable state of site upon check-out. Guests will be charged up to $250.00 for excessive cleaning.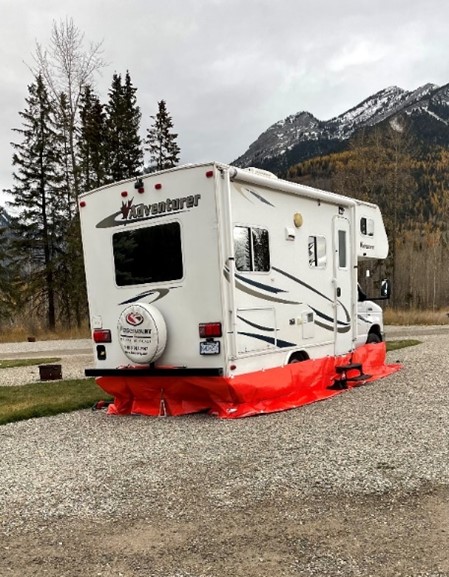 Unacceptable exposed skirting materials.
Storage
For storage purposes, a tent style temporary shelter and/or small utility trailer are permitted (either cannot exceed a combined 10ft x 10ft (100sqft) area). These can be used for excess items and winterization materials.
Storage tents and/or utility trailers must only be placed on the gravel pad. There must be enough room on the site to park all vehicles and walk around everything on the site while on the gravel pad. Vehicles may not be parked away from the site to accommodate a storage unit.
There are a few options available in Fernie for storage facilities if additional storage is needed, including CityBox Storage (778-743-5027), Snow Valley Mini Storage (250-277-2547), and Ghostrider Storage (250-423-7205).
Site Occupancy
2 adults and any children under 16 are included in the site rate. If there is a 3rd adult living on the site, a $50.00 per month fee will be added to the bill.
Tents are not permitted at RV sites unless approved by FRVR. Once approved, tents can only be placed on the gravel pad. No tents allowed on the grass at any time. Tents are to be no larger than five square metres (7ft x 7ft) and used for children 16 and under only. Adults are not permitted to tent on RV sites.
Vehicles
The speed limit in the Fernie RV Resort is 20kmh (12mph). Please watch for pedestrians, and children. No driving or parking on the grass. Vehicles may not be parked on the road at any time and must not protrude into the roadway at any time.
2 vehicles are included in the rate for each site. A $50.00 per month fee will be charged per additional vehicle above this number, or for any secondary vehicle that needs to be parked away from the site. Vehicles may not be parked away from the site unless approved by the Office.
Visitors
Visitors and non-registered guests are welcome to park their vehicle on Fernie RV Resort property between 8am and 11pm but must register all vehicles at the Office and park only in designated guest parking areas.
Overnight guests must be registered with the office. Fees for overnight guests are:
$6/night per additional adult
$6/night per additional vehicle
If it becomes clear that more persons are camping on the site occupied by the registered guest than have been reported to management, an appropriate charge will be added to the credit card of the registered guest.
Noise
No generators allowed at any time.
Quiet time is from 11:00 p.m. – 8:00 a.m. All noise or behavioral complaints will be viewed as violations of the Terms of Occupancy and the guest will be subject to immediate expulsion from the Resort, at the discretion of the management. Please be mindful of the Resort quiet hours and nearby guests. If you have a vehicle with a backup alarm, please back it into your site outside of quiet hours.
Wi-Fi
We request that you do not use devices such as Telus Smart Hubs or Starlink in the Resort. However, if you choose to bring your own Wi-Fi devices, we request that you use your own data plan, disconnect from the RV Resort's Wi-Fi, disable your devices 2.4ghz radio and only use the 5ghz radio. In addition, please turn down your radios transmit power. This will reduce interference with other guests' connections and provide a better Wi-Fi experience for all guests.
If you need any assistance doing this, please ask the Office.
Garbage and Recycling
Dumpsters for household garbage only are located near the Office and beside the Yurts. Mixed recycling can be placed in the yellow bins – no glass. Glass recycling can be taken to the Bottle Depot on 13th Street. Bottles and cans can be recycled in bins provided in these locations as well; these are donated to a local charity.
Please dispose of larger waste, including any interior or exterior RV renovation items & materials, at the Fernie Transfer Station located at 6000 Hwy #3 (Turn East on Hwy # 3, opposite Fernie Home Hardware – less than five minutes).
All wildlife attractants must be stored in a bear proof enclosure or in a secured vehicle anytime sites and accommodations are left unattended or when retiring at night.
Attractants include, but are not limited to food, garbage, recycling, empty containers, coolers (full or empty), dishes (clean or dirty), stoves, and all scented items (soap, shampoo, deodorant, toothpaste, etc.)
Bears that become highly food-conditioned and habituated to humans are often destroyed because of concerns for human safety.
Pets
Pets are welcome at the FRVR. Two pets are allowed per booking and additional pets will incur a $3 fee per pet, per night. Pets must be always on leash or be contained within the guest's accommodation, and pets are not to be left unattended for long periods.
Pets are not permitted inside any FRVR buildings, showers, or the playground area. Owners are required to clean up after their pets on every occasion/feces basis. Excessive ongoing barking is not tolerated.
If it becomes clear that more pets are on site than registered by the guest to the office management, an appropriate charge will be added to the credit card of the registered guest.
Winter – Additional Information
Winter RV guests are responsible for all desired winterization to their unit and plumbing services. All serviced RV sites are equipped with frost-free hydrants for year-round water service. This means that these Frost-free hydrants can operate in freezing temperatures because when fully shut off, water in the riser pipe drains out into the bottom of the hole through a bleed off valve leaving nothing to freeze above the frost line. Partially closing the handle doesn't allow water drainage, and the hydrant may freeze.
The FRVR recommends that winter guests refrain from keeping the water hydrant open constantly throughout the winter to avoid extensive property damage.
Any damage, caused by the site occupant, to the site or Resort property resulting from freezing water lines, or other issues, will be repaired at the expense of the guest at a minimum of $350. Fernie RV Resort will not assume liability for any damage or loss to personal property resulting
from weather or temperature.
Sidewalks, roadways, and designated pathways are plowed continuously by FRVR. Please refrain from creating additional pathways on the grass, this prevents any landscape damage requiring to be fixed in the spring. You are responsible for snow removal on your own site.
Damage
Guests may be subject to a site cleanup fee of $250.00 if there is excessive cleaning to be done on their site during occupancy or upon checkout. All FRVR sites are received upon occupation in clean, debris-free, and working condition.
Any damage to the site occupied by the registered guest, or damage to any other facility on Resort property which can be attributed to the registered guest or to any member of their group, will be repaired by Fernie RV Resort at the expense of the guest.
Animals must be promptly cleaned up after at any time of year. Damages to tree wells, grass, or other Resort property by a pet will be repaired at the expense of the guest.
Policy Infractions
If a guest is found to be in violation of any FRVR policy, a yellow card will be posted on the guests RV door. The guest must then contact the Office immediately to arrange a meeting to discuss the issue and steps needed for remediation.
The issue must be remediated within 7 days after violation meeting. Non-compliance will result in that guest having to vacate the property.
Termination of Stay
Fernie RV Resort reserves the right to terminate any stay without notice for violation of our Policies. In this case Fernie RV Resort will refund any amount paid for the unused days.