Seasonal Camping
The Fernie RV Resort is pleased to be offering seasonal camping for those looking for a longer stay in Fernie. Seasonal camping is restricted to owner occupied rentals only.
The Resort offers a four-month winter season for snow enthusiasts.
Snow Season – December 1 to March 31 – $3400
The above seasonal rates do not include electrical service charges and applicable taxes. Electrical service charges will be based on meter readings at the site.
Seasonal and monthly sites are in the Back-in RV Section. These sites are equipped with full services year-round, including 30 & 50-amp power, city water, and sewer hookups. Showers and wi-fi are free for guests. Coin laundry facilities are available onsite.
Please note that our long-term policy does not permit any guest to remain in any one site for longer than a six-month period.
Deposit Policy
All long-term guests must complete and submit an application for consideration, download here.
Once your application has been received, a pending booking will be created to hold the requested site until management has reviewed the application. After the application has been approved, a deposit is required for confirm the booking. The first and last month of the season must be paid upfront as the deposit. Remaining payments can be made monthly.
All seasonal bookings must have a credit card or debit visa on file for payment. E-transfer will not be accepted.
Cancellation Policy
To cancel a seasonal rate reservation, please contact Resort no later than 12pm fourteen days prior to your arrival date. If your cancellation is received before this deadline, you will be charged a $100.00 cancellation fee and your deposit will be fully refunded. Cancellations made after the fourteen-day deadline will have a $500.00 cancellation fee applied, with the remainder of the deposit refunded.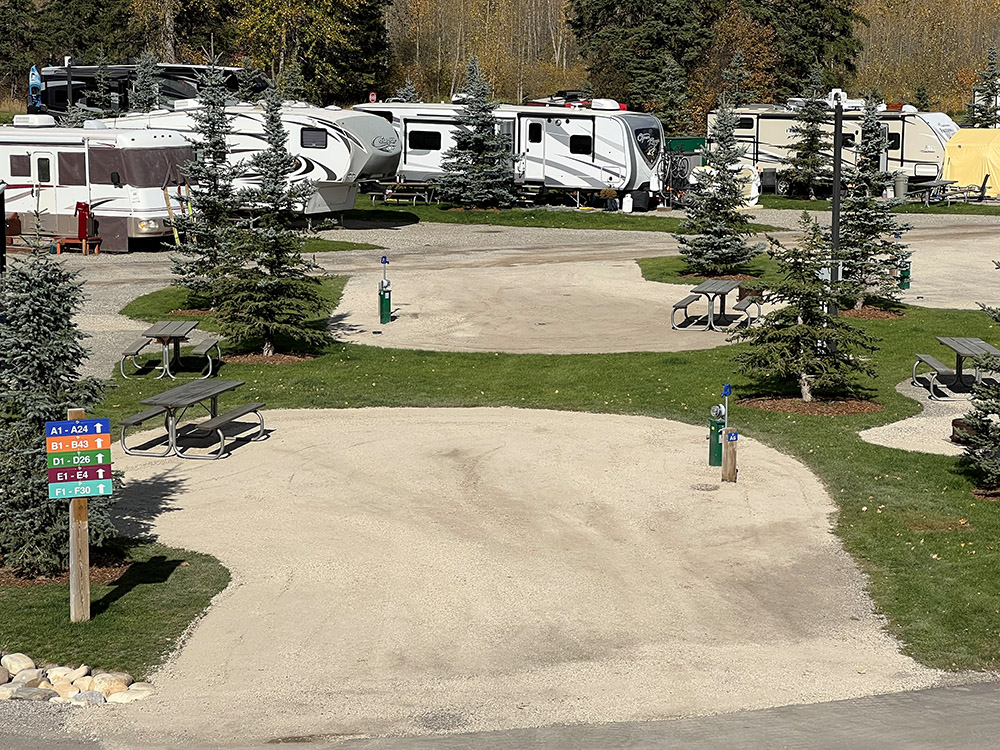 Back-in RV Sites
We have 71 back-in sites with easy access and ample space. All sites have a fire ring and picnic area.
Site dimensions are 60 ft long x 42 ft wide. Pad dimensions are 50 ft long x 10 ft wide for the RV pad and 25 ft long x 10 ft wide for the parking spot.
Full-service, year-round hookups at each site include water, sewer, electricity (all RV sites have 30 and 50 amp service) and Wi-Fi.