The Fernie RV Resort is pleased to announce the opening of the new Riverside section for camping on July 1, 2021. These 30 new full-service RV sites are responding to the increased demand for RVing and is part of the Resort's original master plan.
Shelley Barrington, FRVR General Manager, commented, "We are excited to expand and to continue to accommodate your camping needs. It's through the hard work of our consultants and maintenance staff that we could bring this to fruition and we are most grateful. This will add another great offering to the Resort and we hope you will visit soon."
The expansion is located on approximately five acres located beside the Elk River next to Sections D and E. The sites are 50% larger than the existing sites and feature a natural landscape. The increased space surrounding the sites will create a more private camping experience. The oval shaped sites are built for today's larger Class A Motorcoaches and have a fire ring and picnic table. Full-service, year round hook-ups at each site include water, sewer, electricity (all RV sites have 30 and 50 amp service) and Wi-Fi.
The natural landscape will include tall evergreens with flowering shade trees and privacy shrubs sprinkled throughout the meadow and filled with natural grasses & wild flowers. The following image is an example of what Riverside should resemble in the near future.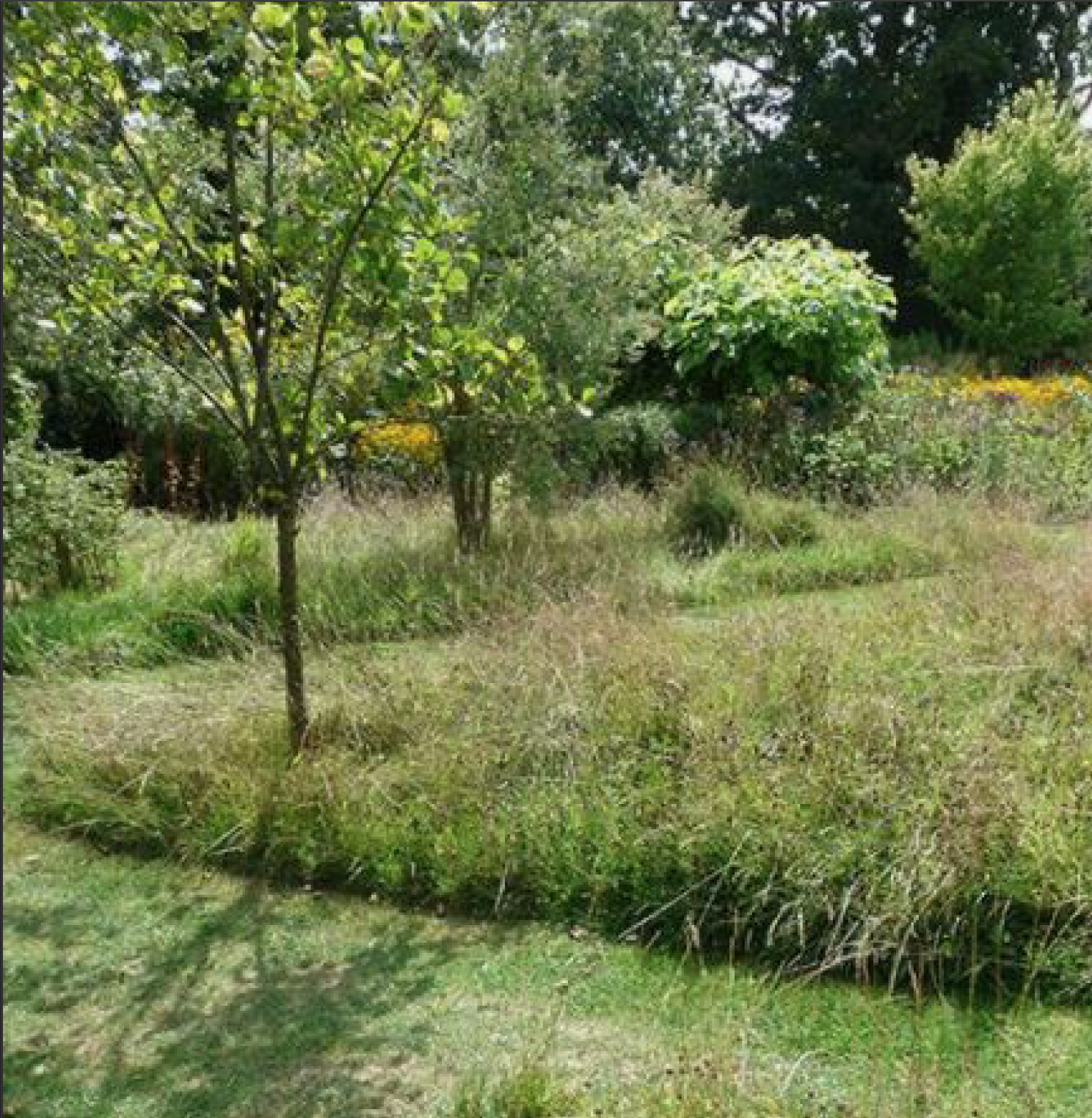 Many sites include mature trees and those with open space have been supplemented with the planting of 60 deciduous trees. Lead Gardner, Cindy Boudreau, commented, "Our natural grasses and wild flowers have just been seeded, we ask and thank you for your patience in allowing them to grow by trying not to step on their tender shoots."
The list of plant material in the Riverside section includes:
Grasses – Chewings Fescue, Hard Fescue, Creeping Red Fescue, Sheep Fescue, Annual Ryegrass, Meadow Fescue.
Wild flowers – (these will be broadcasted in a week) – Arrowleaf Balsamroot, Deerhorn Clarkia, Globe Gilia, Lewis Flax, Mountain Lupine, Munro's Globemallow, Oregon Sunshine, Pale Evening Primrose, Palmer Penstemon, Rocky Mountain Beeplant, Rocky Mountain Penstemon, Sulfur Flower, Sweetvetch, Yellow Gaillardia, Common Yarrow.
Trees – Brandon Elm, Bailey Schubert Ornamental Chokecherry, Thunderchild Flowering Ornamental Crab, Russian Mountain Ash.
Shrubs – Rose Glow Barberry, Silver & Gold Dogwood, Red Osier Dogwood, Siberian Dogwood, Show Off Forsythia, Alpine Current, Froebeli Spirea, Glow Girl Spirea, Mango Tango Potentilla, Pink Paradise Potentilla, Diablo Ninebark, Waterton Mock Orange, Topaz Yellow Rose, Theresa Bugnet Rose, Modern Blush Rose, Campfire Rose, Cargary Carpet Juniper, Mint Julep Juniper, Grape Sugar Buzz Monarda, Purple Leaf Ornamental Sandcherry, Bridal Wreath Spirea, Hedge Contoneaster, Stella d'Oro Daylily, Blue Fox Willow, Miss Kim Lilac.
The FRVR opened for business on April 1st 2016 and has enjoyed five successful years of year around operation. Guests have been provided with a modern camping experience with spectacular views of the surrounding mountains. The Resort is nestled between 750 metres of beautiful Elk River shoreline, the 18-hole Fernie Golf Club, and Fernie's Maiden Lake. Riverside trails connect the Resort with the Historic Downtown and shopping and dining are minutes away.
The Resort now offers 26 pull-through and 105 back-in RV sites, the majority of which offer 50 amp electric and full sewer hook-up service. Also available are 11 tent sites that host truck campers, camper vans and Class B motorhomes. In 2018 five heated yurts were added to accommodate the growing demand for glamping. Free wi-fi service, family-oriented washroom and shower facilities, and a commercial laundromat is available for guests. With the expansion the Resort will now offer 147 sites.
Fernie is a true mountain community, reveling in Mother Nature's delights. A thriving cultural scene, the enthusiasm of a vibrant youthful population, and a scenic, tranquil location in the heart of the Canadian Rocky Mountains make it unique.
Guests staying at the Resort can enjoy walking, hiking and biking trails from your site and riverside activities including fishing, floating and paddling. In the winter season these trails are groomed for multi-use activities. Fernie has also become known for its great restaurants and shopping too.
Visitors to Fernie often describe their experience as authentic, relaxing and down-to-earth. Perhaps it's the century-old downtown and rich history, or the pristine natural environment.
Regardless of your camping pleasure, come and visit us and you'll fall in love with Fernie.
Thank you for all your support and we look forward to your next visit!