It's been a tough year for everyone and we appreciate your support and cooperation during these times. Our survey had 1845 responses and we thank you for your contribution with the goal of helping us continue to improve the Fernie RV Resort. You can expect news on this years upgrades in future newsletters.
We do have good news, last week Dr. Bonnie Henry, BC's Provincial Health Officer, said that British Columbians will likely live in a "post-pandemic" world by the summer–if things continue to "go the way we want them to."
We look forward to the "post-pandemic" summer and the updating of our Covid-19 policy.
Elizabeth Blakely has been selected the winner of the $200 FRVR Gift Certificate for participating in the survey. Congratulations Elizabeth!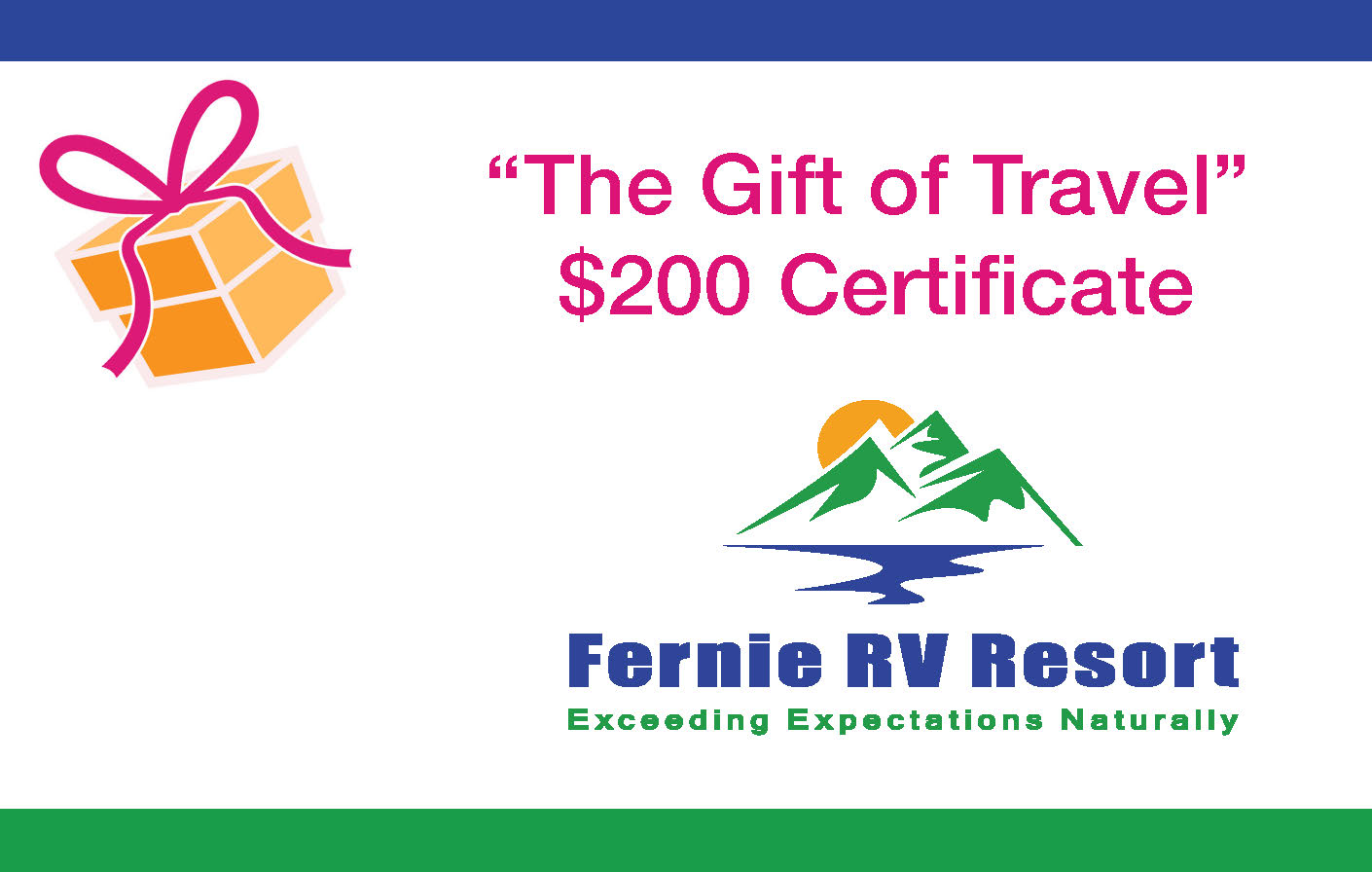 Here is a mix of comments from the survey:
"More sites would be great. No need to be bigger though. Full service please. Keep up the great work!"
"Thank you for making our very first RV trip the most memorable one! We absolutely LOVED your campsite and will definitely be back. Don't let it get too big or crowded :)"
"Great location close to town, within walking distance. Beautiful campsite. We travelled to Ontario and back and the Fernie site was the best one we stayed at. A store selling adult beverages, snack food and camping supplies etc. I have told all our friends about this rv site."
"I stayed in a tent while I was there, but I was super impressed with the bathroom and sink facilities, and checking in was super easy. Very impressed."
"Thank you. we love staying with you. We travel with a motorcycle and motorcycle camper. We also travel with our 25 ft camper in colder weather."
"Very anxious for Canada to open its borders so we can return. We loved Fernie!!!"
"The bathrooms/showers are the nicest I have been to. Keep up the good work! I will be back this summer!!!"
"It was the first time camping on my own and I had a great experience at your camping! My parking spot was big enough, clean, near to washroom. I had a grill, a picnic table available. The shower were clean and warm! I was very impressed and will for sure come back!!!!"
"Awesome RV resort. We will be back in 2021."
"Great spot. Tons of potential. Nice, helpful, friendly staff. I came up for a ski trip last year and skied Fernie (awesome), then KH, then over to Revelstoke. Your resort was the best place we stayed the whole time in CA! Actually extended our stay to hang out there a couple extra days even though we had to buy day tickets at the mountain ( we both had ikon passes). Thanks and see you after this covid bs!"
"I think you've done well with your timeline, to present. It takes a long time to mature, and you've expanded accordingly in my view. Keep up the good work!"
"One of the nicest places to camp. Beautiful area with lots of things to do! It's our go-to RV site in BC!! Congrats to the team there!"
"My husband and I had our first camping experience with our motorhome at your site in early July and loved it so came back again in August. The resort is very clean. impeccably maintained, staff are awesome and in such a perfect location. We loved it and plan to return."
"We stayed in the yurts pre-COVID and they were absolutely lovely! I especially like the price point! Would 100% recommend to family and friends. Have been wanting to return for a stay ourselves once COVID is over!"
"Great landscaping (flowers/shrubs). Like the seperate shower stalls connected with communal hallway. Pleased with administration's flexibility and acceptance of bike Packers who tent."
"We immensely enjoyed our stay in 2020, on our first RV trip ever. Loved you had the bicycles for getting around."
The comments were positive and insightful and we thank for your input.