Do you have plans for Thanksgiving weekend? Are you looking to get out of home or the city for some adventure in the Rocky Mountains? The Fernie RV Resort has a solution, Fernie is a great place to spend the Thanksgiving long weekend, and we are open! Fernie has has been experiencing amazing weather and the Autumn colours are just beginning to peak. Clear skies and moderate temperatures are in the forecast.
We have also extended our tent site camping to include Thanksgiving weekend because of the excellent weather that is forecast and the success of our new tent camping area washroom and dishwashing facility. Our tent sites are designed to accommodate passenger vehicles, bicycle, hikers and motorcycle tenters; as well as truck campers, camper vans and Class B motorhomes (20 ft max). The new tent area washroom facility with dishwashing stations and the bear-proof food storage lockers have added a new dimension of convenience and function. Our RV sites are open year around and we have a dedicated and following of Winter campers.
Here are two campfire Thanksgiving recipes to help you make the most of your celebrations;
Thanksgiving Campfire Turkey
You don't have an oven in your RV but you have a good fire pit at your campsite? No worries, then – just have cheesecloth, aluminum foil and lots of coal and you can have roasted turkey for Thanksgiving.
Prep time: 30 minutes
Cook time: 3 hours (or one hour for every 4 lbs of turkey; adjust accordingly)
Yields 8-10 servings
Ingredients:
12-14 lbs turkey
1 cup olive oil
1 tsp rosemary
1 tsp sage
1 tsp thyme
1 tsp parsley, chopped
1/2 tsp salt
1/2 tsp ground black pepper
Pre-cooked turkey stuffing
Instructions:
1. Prepare your fire pit. Dump enough coals to fill the fire pit in your campfire. Make sure the pit is big enough for your bird, with an inch or two of breathing space.
2. Clean your turkey.
3. In a small bowl, mix rosemary, sage, thyme, parsley, salt and pepper thoroughly. Rub this seasoning mix on the turkey.
4. Rub the turkey's skin with oil until its outside is completely coated.
5. Stuff the bird with your pre-cooked turkey stuffing.
6. Wrap the bird in cheesecloth, and then with three or four layers of aluminum foil.
7. Line the bottom of your fire pit two inches with coal. Make sure you fill the entire bottom.
8. Place the bird atop the coals, then dump the rest of the coals over the turkey until the bird is completely covered.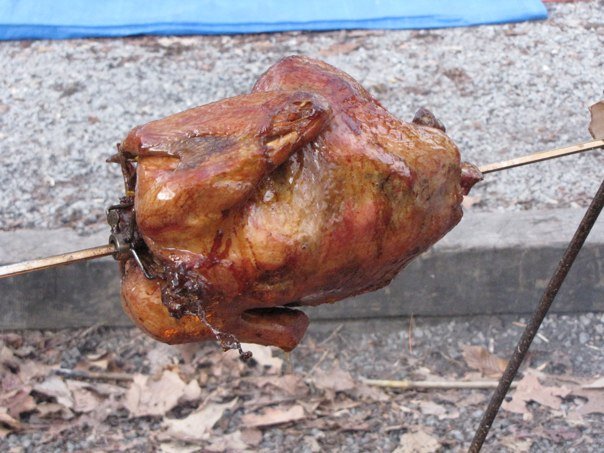 Campfire Pumpkin Pie
Many Thanksgiving dinner tables are not complete without pumpkin pie. If you want to have pumpkin pie while camping out for Thanksgiving, there's no reason why you can't. You just need a pie iron or dutch oven and you have to do your prep before you set out for your camping trip.
Prep time (at home): 2 hours
Prep time (at campsite): 30 minutes
Cook time: 15 minutes (if using pie iron); 25 minutes (if using dutch oven)
Yields 8 servings
Ingredients for the crust:
2 1/2 cups all-purpose flour
1 tsp sugar
1 tsp salt
2 sticks unsalted butter, cut into smaller cubes
Ingredients for the filling
2 cups pumpkin, pureed
1 1/2 cups light cream
3 large eggs
1 cup brown sugar
1 1/2 tsp ground ginger
1 1/2 tsp ground cinnamon
3/4 tsp ground nutmeg
1/2 tsp salt
1/4 tsp ground cloves or allspice
Instructions for prep time at home:
1. Prepare your pie crust according to your favorite pie crust recipe or use a recipe like Martha Stewart's. Keep your pie crust in the freezer and pack it in your cooler when you go on your camping trip.
2. You can also puree your pumpkin beforehand using these methods, keep it in the freezer, and then pack it in your cooler when you leave for your camping trip. You can also puree your pumpkin at the campsite.
Instructions for cooking at the campsite:
1. Puree your pumpkin if you haven't done it at home. Clean the outside of the pumpkin, cut it in half, and remove its seeds and stringy insides. Steam or boil your pumpkin until the flesh is soft, then set aside to cool. Once cooled, scoop the flesh out of your pumpkin and then mash the flesh by hand using a fork.
2. Prepare your pie crust. If you're using a pie iron, cut your pie crust into two squares that can fit the pie iron and grease your pie crust with butter. Use these squares to line your pie iron. If you're using a dutch oven, grease the bottom and sides of the dutch oven with butter and then place the bottom pie crust inside.
3. Mix all the ingredients for the filling thoroughly in a bowl. Once completely combined, pour the mixture into the bottom pie crust.
4. Cover the filling with the top crust of the pie. Glaze the top crust lightly with egg whites.
5. Place the pie iron or dutch oven on your campfire and cover the lid with coals. The pie should be ready in 15 minutes in the pie iron or 25 minutes in the dutch oven.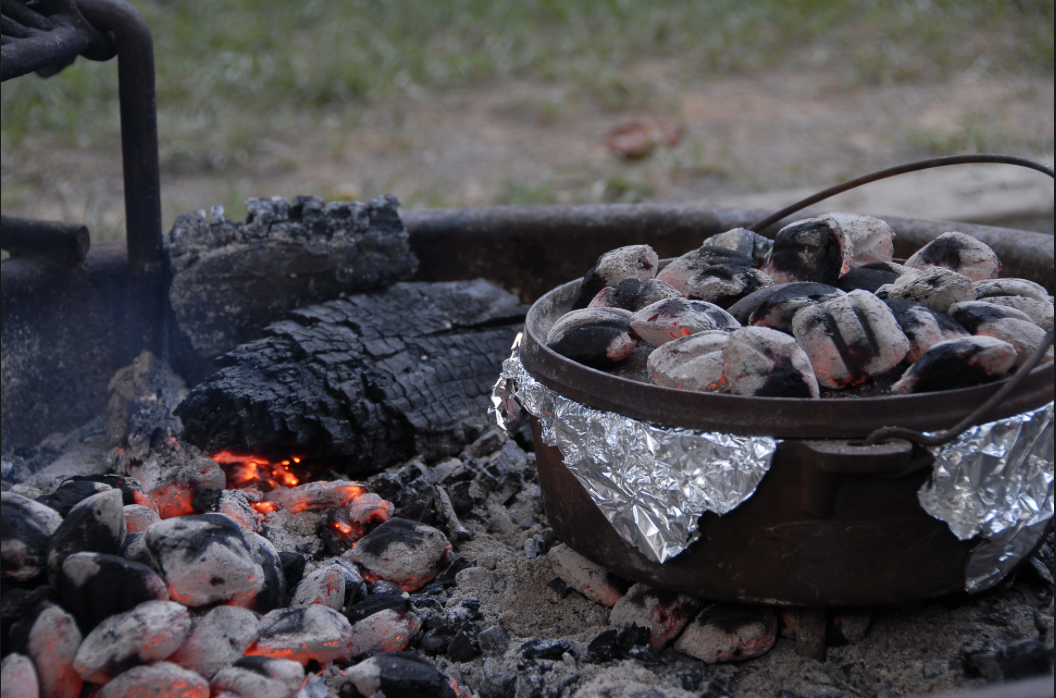 All sites are available to reserve online today or call us to reserve your campsite at 844-343-2233. We look forward to your visit!